Reflections Dementia Care
Reflections Dementia Care
SilverCreek on Main Reflections Dementia Care neighborhood provides residents twenty-four-hour personal care in a private studio apartment, allowing residents to remain as independent as possible. For individuals with Alzheimer's disease or other forms of dementia, SilverCreek on Main in Maple Grove, MN, offers a Dementia Care private suite in a safe and compassionate environment. Our attentive and trained staff provides personalized Dementia Care, with programming that includes dementia-specific activities and programs offered 7 days per week. We offer physical fitness activities and a variety of life enrichment opportunities customized for those with memory loss and their families.
Dementia Care Features and Amenities
SilverCreek on Main residents with memory loss and dementia conditions receive around-the-clock care from our expertly-trained team of resident assistants. Every resident is treated with the dignity and respect they deserve in a compassionate, engaging environment. Our Reflections Dementia Care plans are designed to include enhanced care needs based on each resident's personalized needs. Some of our Reflections Dementia Care accommodation features and amenities include:
Dementia Care is filled with staff who are available 24-hours a day, seven days a week to provide home health services, specifically designed to meet the individual needs of our Dementia Care residents.

Dementia Care residents receive three delicious chef-prepared, made-from-scratch meals that are served in our family-style dining room, along with snacks and assorted beverages. The Reflections community common spaces include the dining room, living room, , sunrooms and outdoor courtyard. The courtyard features accessible spaces and furniture including raised garden beds and ample shade under the pergola for visiting with others and rocking in a glider.

IN2L specialized computer system used for group programming, 1:1 interaction and virtually connecting with family and friends.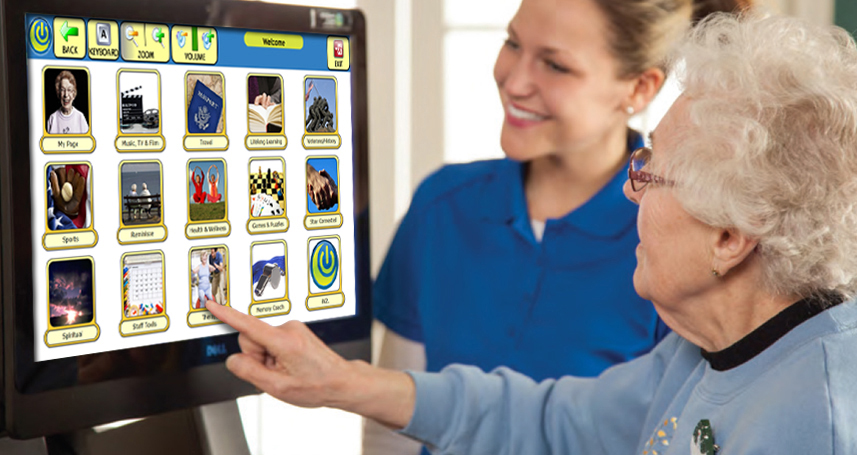 Our engaging, dementia friendly colored hallways and brilliant artwork are designed to help residents be successful with way- finding to their apartment. Artwork by Doug Ohman, local photographer, also prompts reminiscing through a wide variety of iconic Minnesota images like Paul Bunyan and Babe the Blue Ox, wildlife, flowers and animals. Displays are coordinated with the large canvas photos to offer tactile experiences for residents viewing the canvas art. It is an enjoyable art gallery experience for all!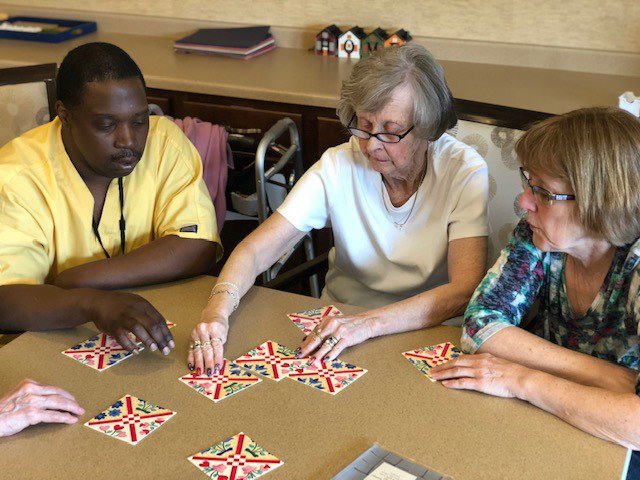 Dementia Care In a Private, Safe Environment
Every resident at Reflections Dementia Care at SilverCreek on Main has their own Dementia Care private suite with their own bathroom. The Reflections community is a controlled-access neighborhood to ensure safety and protection for those suffering from memory loss and dementia. Some of the memory efficiencies and support they will receive at our Reflections community in Maple Grove include:
Our Reflections Dementia Care Director is a certified dementia expert who provides support to residents and their families to ensure quality of life and whole person care.

Planned activities and outings are tailored to the interests of the Reflections Dementia Care Neighborhood.

We offer diverse, family-centered programs that help reduce end-of-day confusion and keep loved ones involved in the resident's care plan.
For more information on Reflections Dementia Care at SilverCreek on Main for your loved one, call our office in Maple Grove.
Especially now the value and benefits of senior living far outweigh staying home alone.
Take a Virtual Tour!
Request A Brochure,
Book a Tour or
More Information